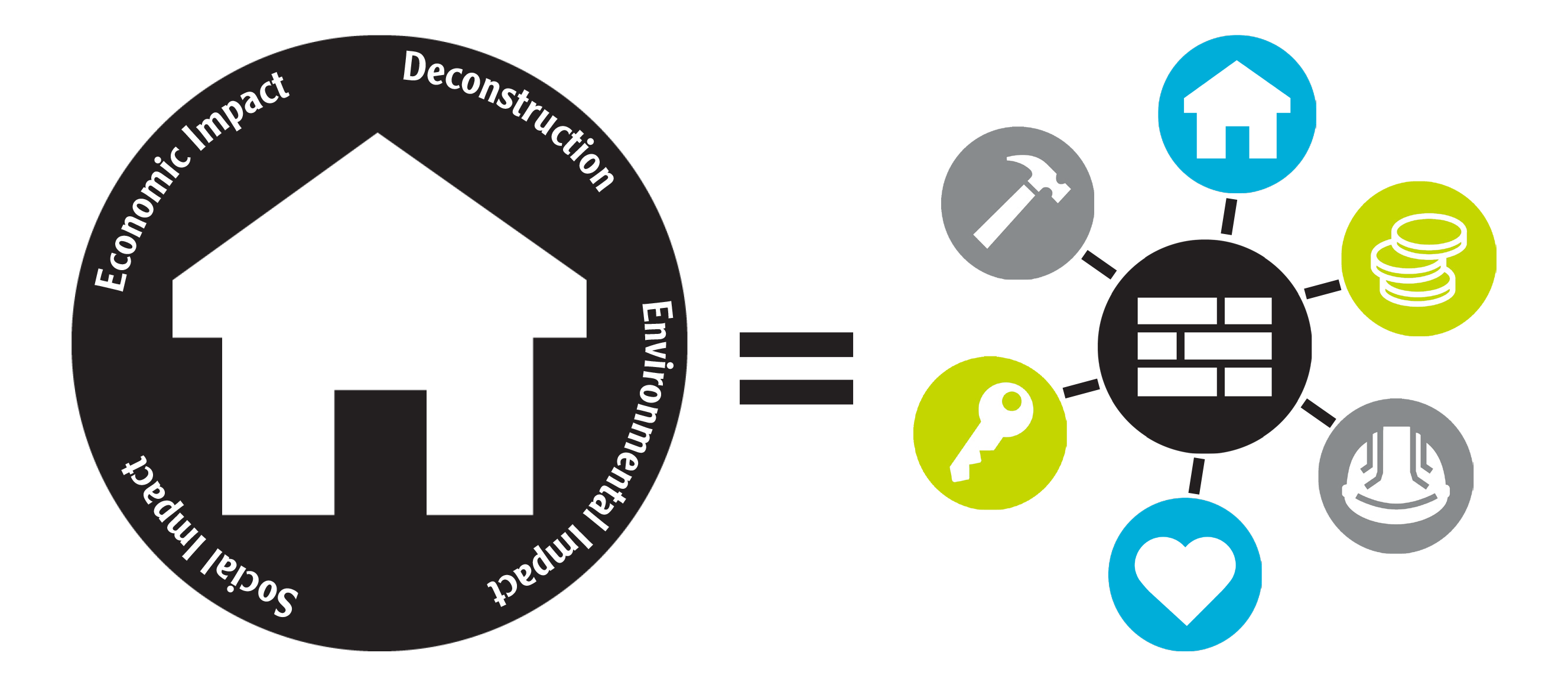 Deconstruction is an environmentally-friendly alternative to demolition. Trained deconstruction crews carefully disassemble the building to salvage as many of the reusable materials as possible, diverting them from local landfills to organizations like Habitat for Humanity's ReStore. Salvaged items typically include doors, windows, cabinets, lighting and plumbing fixtures, framing lumber, roofing materials, and flooring. Choosing deconstruction has a Economic Impact, Environmental Impact and Social Impact.
Economic Impact
The ReUse People of America (TRP) is a national firm specializing in the deconstruction of buildings. They currently operate in 14 states, including Utah, and estimate that their company alone has diverted over 300,000 tons of used building materials from landfills. With their thorough documentation and appraisal of all materials recycled and donated, homeowners are able realize a sizable tax benefit that generally offsets the cost of the deconstruction process. On a typical 2,400 square foot home, they estimate the average after-tax savings for deconstruction to be $11,700 over traditional demolition.
The majority of what is removed from a deconstructed home can be donated to a qualified 501(c)3 nonprofit and claimed as a tax right off.
Beyond doing the right thing, deconstruction can actually provide around $11,700 after-tax savings over "Smash and Dash" demolition on a 2,400 square foot home.
Environmental Impact
Not everyone will have the chance to do a major remodel, or tear down a house to make way for a custom home, but for people who do, there is a new GREEN way of doing things known as deconstruction. Compared to the old "smash and dash" style of demolition where everything ends up in the landfill, deconstruction is an environmentally friendly process where the home is carefully disassembled, to salvage as many reusable materials as possible. On average, 75-80% of a building can be kept out of landfills, and on occasion The ReUse People of America have reused and recycled more than 95%! Some of the few items that cannot be repurposed are drywall, rotted materials and broken tile.
Nearly 250,000 houses are demolished each year in the US.
Landfills are filling up quickly. By choosing Deconstruction over demolition, 75-80% of a building can be kept out landfills.
The ReUse People of America has diverted over 300,000 tons of building materials from landfills.
Social Impact
Salvaged materials have a significant social impact as they are often donated to nonprofit organizations to help the less fortunate members of a community. Habitat for Humanity affiliates across the country have been the recipients of much of the salvaged material, which is then sold in ReStores to support critical housing programs. "We have been the beneficiaries of major deconstruction projects in the past. The proceeds from reselling salvaged materials provide funding that we are then able to reinvest in our community-based programs and services. It's really a win-win for all parties involved in the process."
Deconstruction salvages incredible treasures for reuse in preserving other historical homes.
Deconstruction supports hardworking nonprofit operations like Habitat for Humanity, whose ReStore is one of the local recipients of amazing reclaimed treasures.
The environmental, economic and social impact of deconstruction is tremendous. People involved at all levels need to advocate for a change in how we deal with remodels and unwanted homes- Homeowners, Contractors, Architects and CPAs all have a role to play in promoting this new way of doing things. If you have questions or want to schedule a free workshop on deconstruction, please contact Habitat for Humanity.