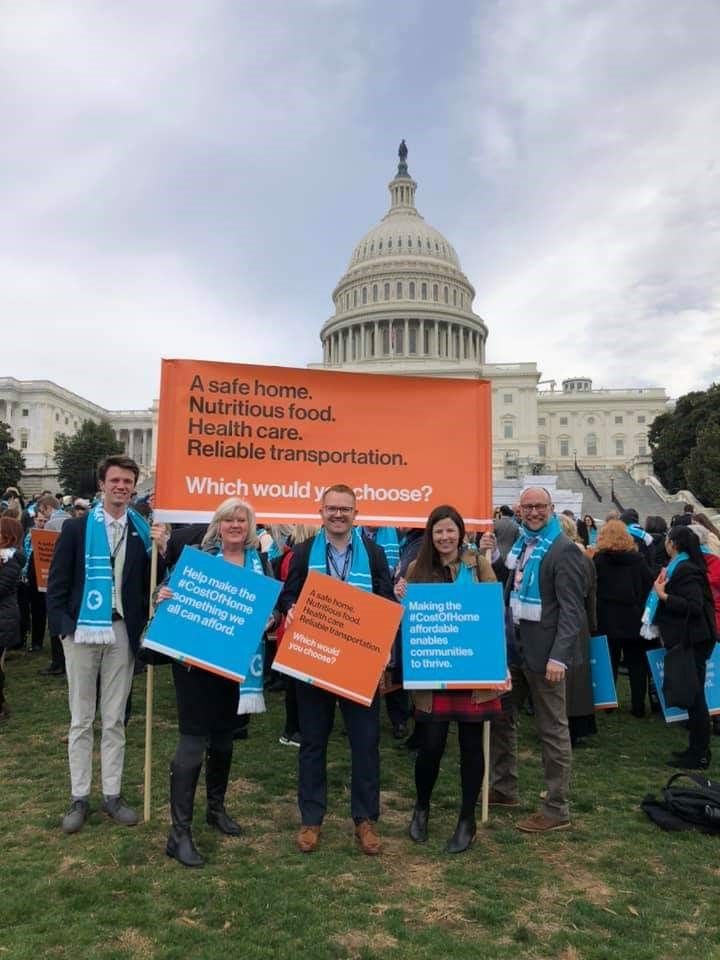 REPRESENTATIVES OF HABITAT FOR HUMANITY OF SUMMIT AND WASATCH COUNTIES ATTENDED HABITAT ON THE HILL RALLY FOR AFFORDABLE HOUSING IN WASHINGTON, D.C.
Leadership met with Utah legislators during their visit to discuss local housing needs
PARK CITY, UTAH – Each year, Habitat on the Hill, an event spearheaded by Habitat for Humanity International, unites hundreds of its affiliates in Washington, D.C., to call on Congress to support federal policies and programs that promote access to safe, decent and affordable housing around the country. Habitat for Humanity of Summit & Wasatch Counties had the opportunity join the effort for the first time this month and act as a voice for the local community to impact policy at the state and national levels. Shellie Barrus and Alison Kuhlow traveled to Capitol Hill to bring attention to the fact that one in six U.S. households are paying half or more of their income on housing, an epidemic that is all too familiar to those in the greater Park City community.
Habitat affiliates urged members of Congress to support the Neighborhood Homes Investment Act, a policy priority of Habitat's "Cost of Home" campaign. This important federal legislation supports the building and rehabilitating of single-family homes in distressed neighborhoods, enabling communities to thrive.
"With the first two of our Silver Creek Village homes under construction and the ever-increasing affordable housing needs in our community, we felt this year made sense to start laying the groundwork for greater advocacy efforts in the future," says Shellie Barrus. "Lack of affordable housing impacts all of our daily lives – from those who need it to employers to educators to healthcare workers. This was an unprecedented, meaningful opportunity for us to rally on the Hill and meet with our local representatives in a national forum."
On February 12, Kuhlow and Barrus met with staff from Utah's Congressional offices to share Summit and Wasatch Counties' needs for government support that would expand affordable housing.
ABOUT HABITAT FOR HUMANITY OF SUMMIT & WASATCH COUNTIES
Founded in 1995, Habitat for Humanity of Summit and Wasatch Counties, Utah ("Habitat") is an affiliate of Habitat for Humanity, a leading global nonprofit working in nearly 1,400 communities throughout the U.S. and in nearly 70 countries. Families and individuals in need of a hand up partner with Habitat to build or improve a place they can call home. Habitat homeowners help build their own homes alongside volunteers and pay an affordable mortgage. Through financial support, volunteering or adding a voice to support affordable housing, everyone can help families achieve the strength, stability and self-reliance they need to build better lives for themselves. Through shelter, we empower. More information about Habitat for Humanity of Summit and Wasatch Counties can be found at www.habitat-utah.org.