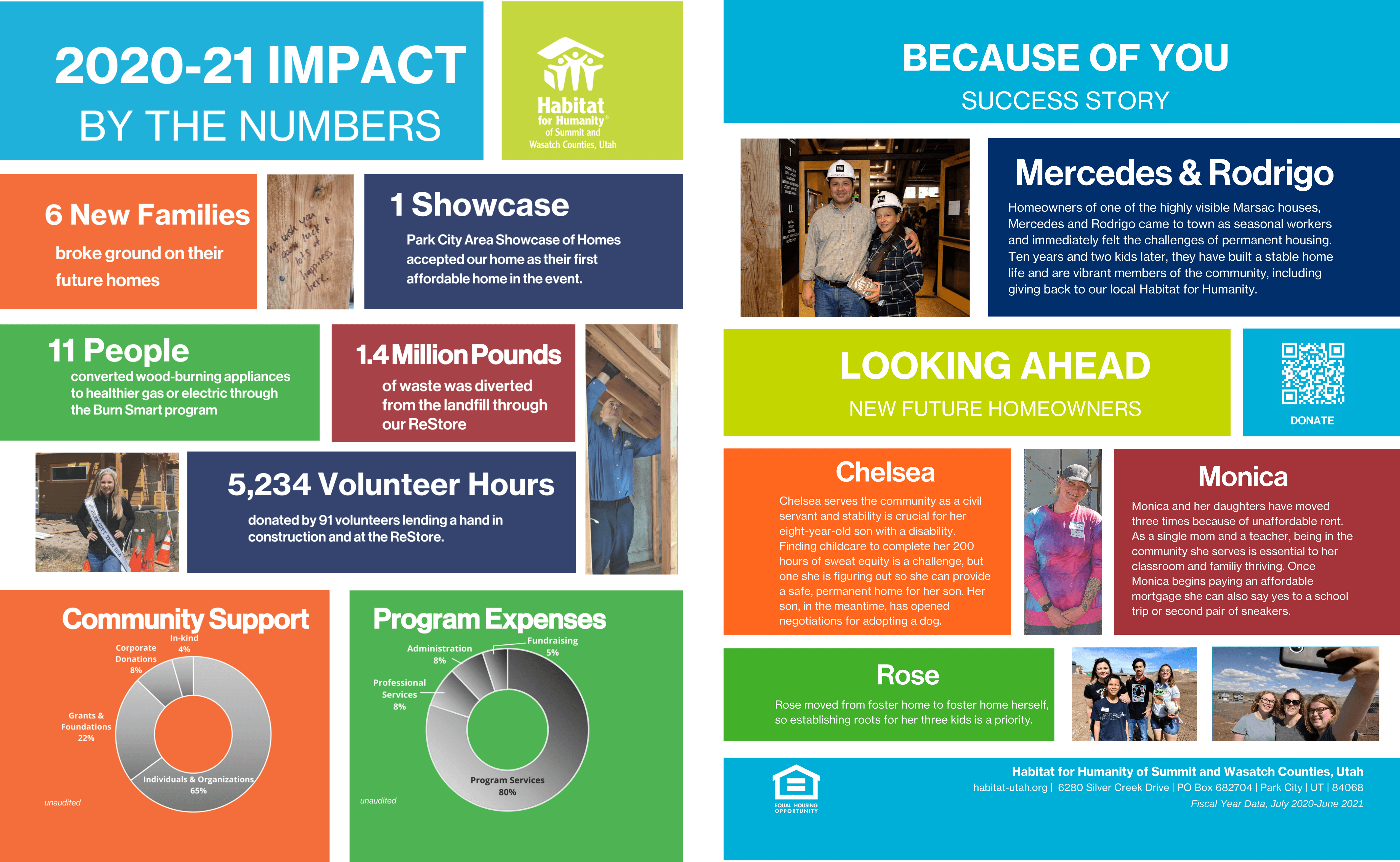 December 2021
Holiday Greetings!
Because of you, our local Habitat for Humanity's work continued throughout the hardest times of the pandemic. Days when folks had to stay home instead of shopping at the ReStore; when restrictions on accepting ReStore donations had to be put in place; when, for safety reasons, volunteers were banned from the build sites and ReStore, and when professional labor and materials costs skyrocketed.
What remained strong, however, was the support from donors like you! Because of your financial support, we were able to weather the pandemic storm and continue to provide essential services in our community.
We moved our financial education classes online and helped nearly 100 students gain the financial savvy they will need as they take steps toward their dream of owning a home of their own.
Folks who remodeled during the lockdown shared their amazing donations with the ReStore, until some days we ran out of room! When shoppers returned, we saw record breaking sales. Enough revenue to cover the cost of an entire Habitat home!
When volunteers were finally allowed back, the community came out and gave thousands of hours into finishing our first home in Silver Creek Village! THANK YOU!
We are awed and so, so grateful.
Our beautiful new home in Silver Creek Village was accepted into the Park City Area Showcase of Homes, which brought more than 1,600 visitors from all over the United States to see what affordable housing could look like in a place of such luxury.
Because of your support, six new future homeowners received the good news that they can partner with us to build that path to homeownership. Teachers, nurses, and managers are among those who make our community better for everyone. We look forward to making Park City a welcoming and stable place for their families.
Because of your support, our staff was able to advocate for more affordable housing as well. Attending our first Habitat on the Hill event got us in front of national lawmakers to talk with them about the need for affordable housing in Park City and throughout the country. Our affiliate continues this work by also advocating for Habitat for Humanity International's Cost of Home program at the local level.
We look forward to partnering with you in the future as we continue to build strength, stability, and self-reliance through our homeownership programs. If you haven't already, please consider giving to Habitat for Humanity of Summit and Wasatch Counties this holiday season.
With gratitude,
Shellie Barrus, Executive Director
PS
Owning a home with an affordable mortgage was as fundamental to adjusting to the pandemic for our Habitat homeowners as it was for most of us. Thank you for ensuring that stability of home is available to families who strengthen our community in our area.