Applications for Habitat's Homeownership Program are only taken during our open application windows.
Habitat's application window is now closed.
As construction continues on our Silver Creek Village homes, more opportunities will open up in the Homeownership Program.
To be alerted when future application windows open, please email us. Habitat for Humanity of Summit and Wasatch Counties does not keep a waiting list of future homeowners. This is a list to receive information only.
Homeownership Program Overview
Habitat for Humanity of Summit & Wasatch Counties builds healthy, energy efficient, affordable homes for working members of our community.
Why Homeownership
Improving affordable homeownership leads to numerous outcomes that extend beyond the house​​​​​. In the U.S., these include greater economic stability, access to quality education, increased civic and social engagement, better health, and a reduced environmental footprint. 
Through a series of evidence briefs, Habitat is bringing to light research on the impact that affordable housing has on individuals and families at home and beyond. This brief provides an overview of how families can prosper with greater access to decent, affordable housing. Check out HFHI's highlights at the bottom of this page.
WHY HABITAT:
Habitat homeowners are active participants in building a better home and future for themselves and their families. Every Habitat home is an investment. For us, it is one answer to a critical need, and we believe that stronger homes will create stronger communities.
As not just the builder, but the mortgage lender as well, we form a true partnership with our homeowners and work toward providing long term stability so that families can work and live in our community.
HOW IT WORKS:
The Habitat home ownership program is quite different than the other affordable housing programs in our community. Please take a little time on our website learning how we are different and see if Habitat home ownership is right for you.
Habitat evaluates all applicants based on three* principal criteria:
CLICK ON THE BOXES IN THE HOUSE TO LEARN MORE

CURRENT PROJECTS
Habitat is currently focusing all our efforts on construction of 24 townhome units in the Silver Creek Village development. Construction of these units will be in phases.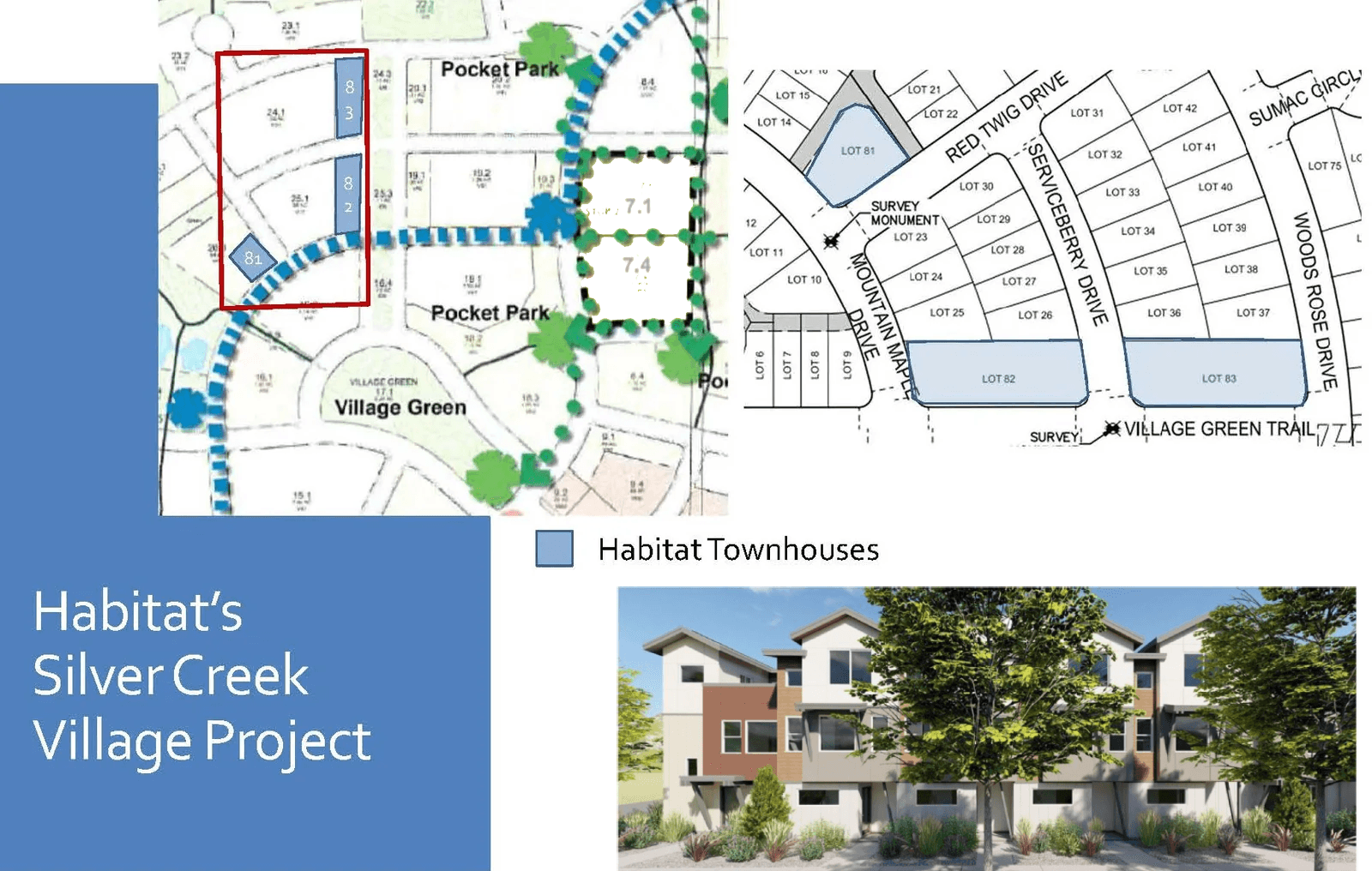 A new master planned community in Summit County, located on the Southeast corner of Highway 40 & Interstate 80.  The Silver Creek Village community will feature:
Affordable, attainable and market rate housing          
A mix of apartment, condominium, townhomes and single family units
Several parks (including a dog park!), playground and sports fields
150 acres of open space with trail system
Silver Creek Village is located in the South Summit School District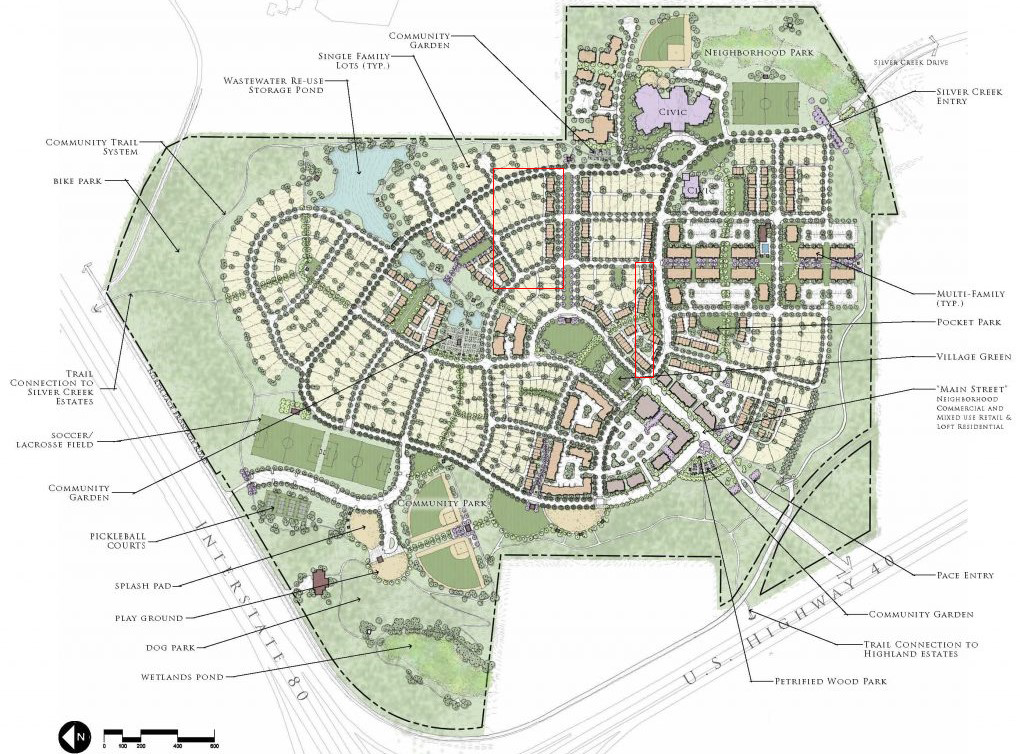 Still have questions? We are happy to help!
Contact our Homeowner Services personnel at 435-658-1400 x1005. We will respond in a timely manner.
Applicants must consent to credit, background and reference checks and home site visits and other reasonable diligence by Habitat. Habitat does not discriminate on the basis of race, gender, religious affiliation, occupation or otherwise and is an equal opportunity housing provider.
*Any U.S. citizen or permanent resident who meets these criteria may be eligible to become a Habitat homeowner. Criteria imposed on a development plan by City or County government may play an additional role in qualifications.
HFHI's homeownership research highlights
Wealth and financial stability
U.S. homeowners have an average net wealth that is 400% higher than that of renters with similar demographics and earnings, and home equity represents the largest proportion of wealth (34.5%) for U.S. households.
Research has shown a correlation between homeownership and increased wealth, with each year of homeownership tending to be associated with an additional $9,500 in net wealth, on average.
In 2019, net wealth was lower for lower-income ($9,300), Black ($24,100) and Hispanic/Latinx households ($36,050) than for higher-income ($1,589,300) and white households ($189,100). Home equity represented a larger share of net wealth for low-income households and Black and Hispanic/Latinx households.​​
 
Civic and social engagement​​​​​
Homeowners are more likely to vote in local elections than renters in comparable neighborhoods, and this likelihood increases with the degree of neighborhood disadvantage in low-income urban areas.​​​​​​
Regardless of the length of time they have owned a home, homeowners are 1.3 times more likely to become involved in a neighborhood group and to join a civic association than renters. The increased participation in neighborhood groups holds true in low-income neighborhoods as well.
 
Environment​​​​​
For older single-family homes, weatherization reduces low-income households' total energy costs by 12.4% within the first year. This is substantial given that low-income households have higher energy burdens, spending three times the share of their annual income (7.2%) on energy costs as compared with other households (2.3%).
Education
Children of low-income homeowners are 11% more likely to graduate from high school and are 4.5% more likely to complete post-secondary education than children of low-income renters.
Homeowners can leverage their housing wealth to finance post-secondary education for their children, especially lower- and moderate-income households. For lower- and moderate-income households, a $10,000 increase in housing wealth raises the probability of college attendance by 14%.
 
Health
Decreasing housing costs for cost-burdened households (those spending more than half of their household expenditures on housing) releases resources to spend on nutritious food and health care and limits overcrowding to minimize the spread of respiratory infectious diseases.
Information provided by Habitat for Humanity International.