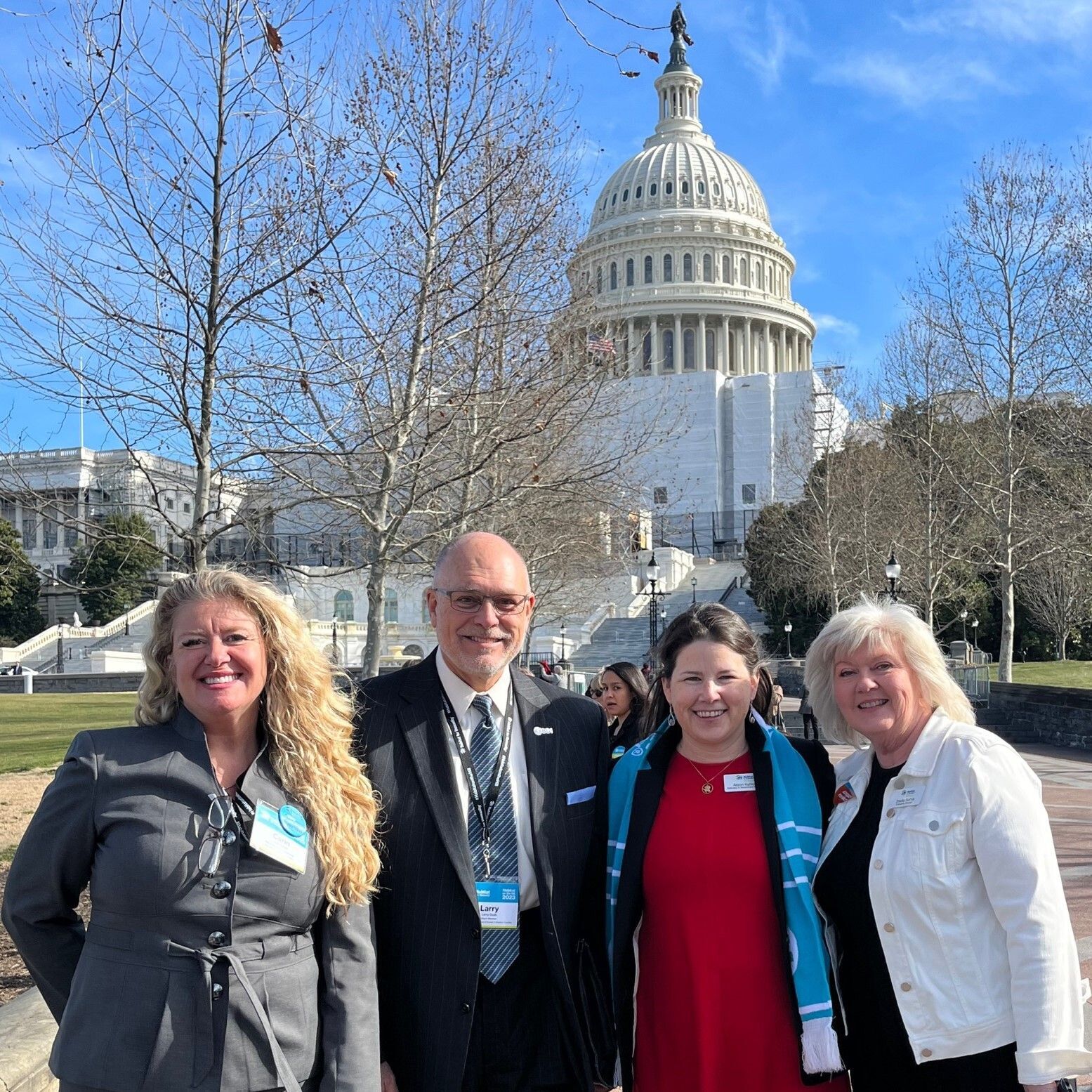 Staff and board from our local Habitat for Humanity headed to Washington D.C. earlier this month to join other Habitat affiliates in advocating for improved national policies and funding surrounding the issues of affordable homeownership.
More than 500 Habitat home affordability advocates traveled to Washington for Habitat for Humanity International's live annual legislative conference, Habitat on the Hill.
Our affiliate's Executive Director Shellie Barrus, Board Member Larry Gluth and Advocacy & Government Relations Manager Alison Kuhlow joined the effort, meeting with all six of Utah's Congressional Offices while in the Capital.
During the conference, affiliates learned about the implications of a changing political environment on housing policy and discussed challenges and solutions for advancing Black homeownership with national and local housing experts. Additionally, 350 meetings took place with congressional offices where advocates discussed the necessity to increase efforts towards affordable homeownership.
These meetings allowed our delegates to present the need for Utah's Congressional offices to prioritize home affordability. They stressed the need of affordable homeownership units, and the ability homeownership provides towards self-sufficiency by building wealth, as well as ensuring that families can continue living in the same community throughout generations. Our delegation promoted prioritizing the funding of programs that help increase homeownership opportunities such as down payment assistance programs, interest rates on construction loans and tax credit financing.
Specific policy and funding requests included:
Neighborhood Homes Investment Act, a new federal tax credit to attract capital to build and rehabilitate owner-occupied homes in distressed neighborhoods. No other federal tax incentive addresses a key problem: development costs that exceed market values for owner-occupied homes in distressed neighborhoods.
Increased funding requests for programs included:
Members of our delegation were able to meet with staffers from U.S. Senators Mitt Romney's and Mike Lee's offices, as well as those from U.S. Representatives Burgess Owens, Chris Stewart and John Curtis. Among the highlights was a sit-down with Representative Blake Moore of Utah's 1st congressional district, which does include parts of Summit County.
Through participation at Habitat for Humanity International events, our affiliate promotes advocacy to change policies and systems, as well as eliminate barriers, to provide stable, safe, affordable housing and fulfill our vision to create a world where everyone has a decent place to live.
Pictured: Carin Crowe of Salt Lake Valley Habitat for Humanity, Larry Gluth, Alison Kuhlow and Shellie Barrus