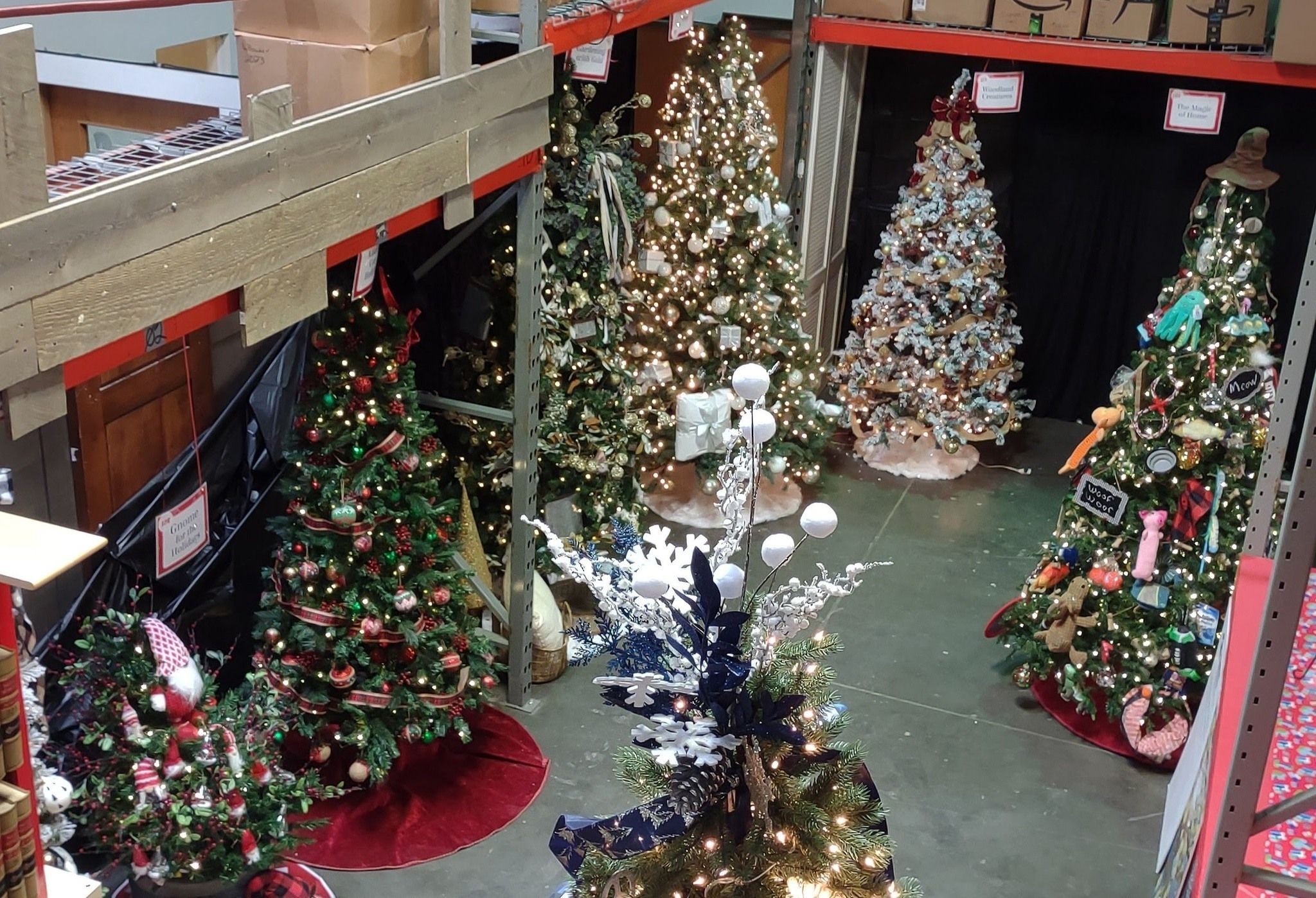 The season of joy and giving is upon us, and what better way to celebrate it than by participating in our beloved Holiday Tree Auction on November 17 and 18.

Warm up hearts this winter by coming to this festive event to benefit Habitat for Humanity Summit and Wasatch Counties. Donations and sales will go to the Homeownership Program, which helps families buy safe, stable, and affordable housing in Summit and Wasatch Counties.
The event is also a great way to learn more about the region's housing needs and introduce friends and family to the profound impact that stable homes have on families, society and our communities.
Here's how you can help support Habitat's mission through the Holiday Tree Auction.

Celebrating Home
Our Holiday Tree Auction will be held at Utah Film Studios in Park City. The themed event—Celebrating Home—is an opportunity for the community to come together to celebrate Christmas, Hanukkah, Solstice, Festivus, or whatever puts you in a festive mood!
The stunningly decorated holiday displays will be available for viewing over two days in mid-November and auctioned off online. Admission is free, and the event is family friendly.

Friday, November 17: noon to 8:00 pm
Saturday, November 18: 10 am to 6:00 pm
Utah Film Studios, 4001 Kearns Blvd., Park City
The online tree auction runs from noon, November 17 until 7:30 pm, November 18. Small holiday decor will be for sale at the event.
Proceeds from sales and the auction will benefit Habitat for Humanity's mission to build homes and hope in our community by bringing people together.

How Can You Help?
We're looking for people who want to help decorate trees, menorahs, and other holiday symbols to be auctioned off. Sign up to join a decorating team by October 31.
We are also looking for volunteers to help before and during the event. Contact Monika Guendner, Community Engagement and Marketing Manager at 435-658-1400 x1800 or development@habitat-utah.org for more information.
If you've got an artificial tree you no longer want, donate your gently celebrated tree to Park City ReStore to help make our event come to life! Trees can be dropped off at the ReStore Tuesday-Saturday, 10:00 a.m. to 4:30 p.m., or sign up here to have it picked up.

Become a Sponsor
We're excited to welcome sponsors for this event as we work to change the lives of families in Summit and Wasatch Counties. A variety of sponsorship levels are still available, including:
Star Sponsor $5,000 (two available)
Snowflake Sponsor $2,000 (four available)
Tree Trimmer Sponsor $1,000
Holiday Helper Sponsor $500
Thank you to our presenting sponsor Utah Film Studios and Holiday Helper sponsor Gallery MAR.

We also invite any business that would like to support the event by sponsoring a tree to decorate. To look into sponsorship options, contact Monika Guendner, Community Engagement and Marketing Manager at 435-658-1400 x1800 or development@habitat-utah.org.
Take Part in the Holiday Tree Auction
The Holiday Tree Auction is sure to be a heartwarming event, bringing together community members to support this festive time of year and worthy cause. The money raised will go towards building affordable homes for local families, making a significant difference in their day-to-day lives.
If you're unable to volunteer or take part in the Holiday Tree Auction, we welcome your donation at any time.